Obudu Cattle Ranch and Cross Rivers National Park, Calabar are two major attractions in Calabar. Obudu Cattle Ranch and Cross Rivers National Park, Calabar are rarely missed by any traveler who comes to visit Calabar.
Obudu Cattle Ranch and Cross Rivers National Park, Calabar is located primarily in the forest belt of South-East Nigeria. The place is divided into two sectors, the southern Urban Division near Calabar and the Nothern Okwangwo Division near Obudu.
The forest was mainly developed to protect and conserve the rain forest ecosystem and to promote eco-tourism in Nigeria. It takes about an hour to reach the forest from the main city of Calabar and can also be linked through Port Harcourt.
The forest has provided a tremendous boost to the development of tourism and has led to the development of the Kanyang Tourist Village and the Obudu cattle Ranch. Many different varieties of flora and fauna can be seen here which includes gorilla, chimpanzee, gwantibo or golden potto forest elephant, and saleginella species.
On the other hand the Obudu Cattle Ranch in Calabar is regarded as one of the major Tourist Attractions in Calabar.
The ranch is a popular holiday destination for adventurous tourists wishing to explore the remote corners of Nigeria. It is situated in the northeast corner of Cross River State and is only 45 miles from the Cameroon. The tourists thus can enjoy the scenic beauty of both Nigeria and Cameroon at the same time. The Obudu Plateau is spread over an area of 40 sq. miles and is 5,200 feet above sea level. The climate of this region is quite cool and pleasant and has no threat of mosquitoes. The land is full of rolling grasslands and deep-wooded valleys. Some waterfalls can also be found in this place.The place should be visited mainly during the dry season as during the rainy season the ranch gets covered with mist and low clouds. Chances of thunderstorms are also there.
Among the main attractions of the place the Gorilla camp is worth mentioning which is about 13 kilometer from the main hotel. The camp can be reached by foot or by hiring a vehicle. The tourist can observe the gorillas in their natural habitat.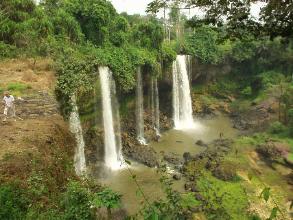 [img]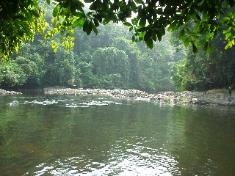 [/img]